How to change aspect ratio?
---
Normally, aspect ratio automatically matches if you choose the correct resolution. But if I use a 4:3 resolution like 800x600 then how to change the aspect ratio to 16:9 without changing resolution? I tried to change the aspect ratio value from fifasetup.ini but nothing happens. In FIFA 11 if you use desktop resolution to 16:9 like 1920x1080 or whatever it can be, and use game resolution to 4:3 res like 640x480- then it becomes automatically 16:9 aspect ratio, even with 4:3 resolutions.

But none of this things worked on FIFA 12/13. Can anyone please tell me how to do it? Or there is no way to do it from FIFA 12?
__________________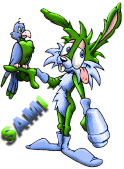 Quote:
Originally Posted by
4ndr3i
So someone had the audacity to neg me in this thread.

This is unacceptable!!! You have 24 hours to come clean and apologize and be all like "Sorry Andrei, won't happen again.. I messed up.. wanted it to be green.. etc"

If not I will do my own investigation and will show no mercy for the unfortunate soul. I already have a list of suspects.
http://www.soccergaming.com/forums/s...ad.php?t=16056