Cocaine
Staff member
Moderator
Mine is Gustavo Rojas Pinilla.
Army general, dictator and arguably the greatest president to have governed Colombia. He gained the presidency with a coup d'état, known as the "golpe de opinión" because it didn't require a single gun to do it, in 1953. He was part of the worst era in the history of my country, La Violencia, a war between conservative and liberal parties which ended countless lives and introduced the formation of guerrillas all around the country. He was able to dismantle liberal guerrillas, providing a time of peace after such bloody and chaotic decade. In his three years as president he accomplished unthinkable things in such a short period of time.
He introduced television, gave rights to indigenous peoples, made telephones accessible, created theaters, radio stations, national television, public banks, hospitals, the first international airport, gave rights to women, including the right to vote. He impulsed cultural enterprises, founded universities, schools and the national center of familiar welfare and many more things. He really was a great man.
Honorable mentions:
Jorge Eliécer Gaitán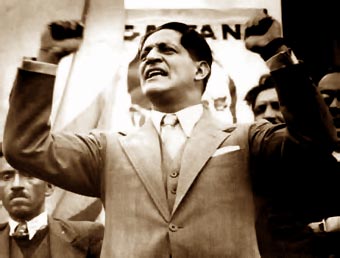 The people's advocate, a man who fought until the end for the justice of the working class, with so many radical ideas to improve the country who was sadly assassinated when he was about to become president, which originated La Violencia.
And of course, the great Gabriel Garcia Marquez
I might add other personal heroes: Jaime Garzón, Carlos Pizarro, Estanislao Zuleta, Camilo Torres Tenorio, Camilo Torres Restrepo, Policarpa Salavarrieta.