Another season, another thread. Hopefully we will be showing off pictures of the kampioensschaal being presented to a crazy croud at the Leidseplein at the last pages of this thread.
History
Founded on March 18, 1900 AFC Ajax is one of the largest and most storied clubs in European football. After their founding and acceptance into Dutch Football Ajax spent ten seasons in the country's second division before earning promotion for the 1911 season. The move to the first division did not last long though as just three seasons later the club was relegated for the first and only time in its illustrious history.
The fate of the club quickly changed with the arrival of trainer Jack Reynolds who would spend 35 years at the helm of the team. Under the leadership of this legendary coach Ajax won their first National Championship in 1918. From that point on Ajax could always be found at or near the top of the Dutch table. It was also Reynolds and his revolutionary training methods that built the foundation for what has now become the world famous Ajax Youth Training Program.
The historic win of 1918 was the first of what currently stands at an astonishing 29 league titles for the Amsterdam club. Five of those magical wins came in the decade of the 1930's when the dominance of the red and white was at one its highest points ever. The 1930's were also a special decade for the club as in 1934 they moved into what would become known as "De Meer." Their new stadium where which legends would be born. It was there that Ajax would call home fore over 60 years and be the place that the club would come to dominate Dutch football and grow into a power across Europe.
Ajax' first taste of European competition came in 1961 when the club became the first from the Netherlands to participate in the European Cup Winners Cup. Success on the European front loomed in the future as the club found a place in the 1969 Cup final before bringing home their first title in 1971. Starting with the magical victory in 1971 Ajax went on to win three consecutive European Champions Cups. In 1972, led by the world famous Johan Cruijff had one of the best seasons ever by a professional football team winning the National Championship, the Dutch Cup, the European Champions Cup and the World Cup.
"De Meer" was also the place where Ajax would develop it's world famous youth training program and develop some of the worlds best football players, a philosophy that is even more important to their success today.
The success of the late 1960's and early 1970's although impossible to duplicate was followed up by 25 more years of success for the club that included 11 National Championships in the final quarter of the century. The success was highlighted by another exciting venture in Europe as Ajax again became European and world champions in 1995.
The need for a new stadium brought with it the closing of "De Meer" in 1996 and the move to the Amsterdam ArenA. With it a new chapter in Ajax history opened. In 1998 Ajax would again find themselves at the top winning both the National Championship and their 14th Dutch Cup in 1998. Now it is time once again for the club to celebrate a new beginning. This time as they head into their second century as one of Europe's most innovative and successful football clubs.
Must visit sites for Ajax fans
http://www.ajax.nl
http://ajax.netwerk.to
http://www.ajaxfotoside.nl
http://www.f-side.nl
Players in
Darío Cvitanich(Banfield)
Kenneth Vermeer(Willem II, back from loan period)
Miralem Sulejmani(SC Heerenveen)
Ismail Aisatti(PSV Eindhoven)
Oleguer Presas(F.C. Barcelona)
Evander Sno(Celtic F.C.)
Eyong Enoh(Ajax Capetown)
Players out
Erik Heijblok(De Graafschap)
Edgar Davids(Unknown)
John Heitinga(Atlético Madrid)
Ismail Urzaiz(Unknown)
Samuel Kuffour(FC Khimki, terminated loan contract)
Rydell Poepon(Sparta Rotterdam)
Jurgen Colin(Sporting Gijon)
Kenneth Perez(FC Twente)
Michael Krohn-Dehli(Brøndby IF)
Nicolae Mitea(Dinamo Bucharest)
George Ogararu(Steaua Bucharest, loan deal)
Albert Luque(Málaga, loan deal)
Donovan Slijngard(Sparta Rotterdam, loan deal)
Manager
Marco van Basten
Squad Numbers
1 - Maarten Stekelenburg
2 - Bruno Silva
4 - Thomas Vermaelen
5 - Jan Vertonghen
6 - Rasmus Lindgren
7 - Kennedy Bakirciolgu
8 - Urby Emanuelson
9 - Klaas-Jan Huntelaar (c)
10 - Miralem Sulejmani
12 - Kenneth Vermeer
15 - Gregory van der Wiel
16 - Luis Suarez
17 - George Ogararu
18 - Gabri
19 - Dennis Rommedahl
20 - Dario Cvitanich
21 - Kenneth Perez
22 - Siem De Jong
23 - Leonardo
24 - Jan-Arie van der Heijden
26 - Jeffrey Sarpong
27 - Laurent Delorge
28 - Vurnon Anita
29 - Mitchell Donald
30 - Dennis Gentenaar
31 - Albert Luque
32 - Donovan Slijngard
33 - Javier Martina
37 - Robbert Schilder
Club kits
Home:
Away:
Venue
Amsterdam ArenA. Capacity: 51.324
Eredivisie Fixtures
30/08/2008 Willem II - Ajax
14/09/2008 Ajax - Roda JC
21/09/2008 Feyenoord - Ajax
28/09/2008 Ajax - Vitesse
05/10/2008 SC Heerenveen - Ajax
18/10/2008 Ajax - FC Groningen
26/10/2008 Ajax - NEC
29/10/2008 Heracles Almelo - Ajax
01/11/2008 FC Twente - Ajax
09/11/2008 Ajax - Sparta
16/11/2008 Ajax - PSV
23/11/2008 AZ - Ajax
30/11/2008 Ajax - FC Utrecht
07/12/2008 FC Volendam - Ajax
12/12/2008 Ajax - NAC
21/12/2008 De Graafschap - Ajax
28/12/2008 Ajax - ADO Den Haag
18/01/2009 NEC - Ajax
25/01/2009 FC Groningen - Ajax
31/01/2009 Ajax - SC Heerenveen
03/02/2009 Ajax - Heracles Almelo
08/02/2009 Vitesse - Ajax
15/02/2009 Ajax - Feyenoord
22/02/2009 Ajax - FC Volendam
01/03/2009 FC Utrecht - Ajax
08/03/2009 ADO Den Haag - Ajax
15/03/2009 Ajax - De Graafschap
22/03/2009 NAC - Ajax
05/04/2009 Roda JC - Ajax
12/04/2009 Ajax - Willem II
19/04/2009 PSV - Ajax
26/04/2009 Ajax - AZ
03/05/2009 Sparta - Ajax
10/05/2009 Ajax - FC Twente
Official Club Anthem
Een Juichtoon da-vre langs de velden
Voor ons dierbaar rood en wit
De Schaar de dapp're Meersche helden
Onze vreugd'en trotsch bezit
Gevreesd, geducht in heel den lande
Glorie onzer Amstel-stad ...
Ieder draagt ze op de handen
Wie gaat niet op Ajax prat
Hup Ajax hup, Rood-Witte schare
Dapp're strijders fier en koen
Bevestigt uw roemrijke mare
Driewerf hup onz' kampioen!
Hup, Ajax, hup onz' kampioen
Ziet onze spelers pijlsnel draven
Fiks zich werpend in de strijd
En nooit zich wepend in de strijd
En nooit bereid tot overgave
Vol van vastberadenheid
In vurig willen, ernstig streven
Naar de overwinningseer
Deed zij nemig club reeds sneven
't Roemrijk Ajax uit de Meer!
De goede clubgeest zal ons schragen
D'Eendracht maakt ons hecht en sterk
D'Ajaxvaan steeds hoger dragen
Zij ons allerschoonste werk
Ons mooie spel vol fris bekoren
Te spelen in Rood en Wit
Dat zij ons jaren nog beschoren
Vol geest, animo en pit.
Ultras
F-Side(Zuid)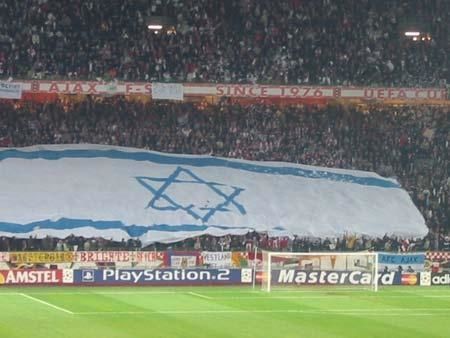 Vak 410
Ajax Club Honours
Eredivisie(32)
1918, 1919, 1931, 1932, 1934, 1937, 1939, 1947, 1957, 1960, 1966, 1967, 1968, 1970, 1972, 1973, 1977, 1979, 1980, 1982, 1983, 1985, 1990, 1994, 1995, 1996, 1998, 2002, 2004, 2011, 2012, 2013
KNVB/Amstel Cup(18)
1917, 1943, 1961, 1967, 1970, 1971, 1972, 1979, 1983, 1986, 1987, 1993, 1998, 1999, 2002, 2006, 2007, 2010
Intertoto(1)
1962
Dutch Super Cup/Johan Cruijff Schaal(8x)
1993, 1994, 1995, 2002, 2003, 2005, 2006, 2007
European Cup I/Champions League(4)
1971, 1972, 1973, 1995
UEFA cup(1)
1992
European Cup II(1)
1987
Intercontinental Cup(2)
1972, 1995
European Super Cup(3)
1972, 1973, 1995
Most of this thread was copied from last year's edition. More information about Ajax can be found here